From the FHWA Innovator Newsletter (May/June 2017, Issue 60)
A regional e-Construction summit in Portsmouth, VA, enabled more than 100 transportation professionals to share how e-Construction processes can improve efficiency, collaboration, and safety while boosting accuracy and lowering costs.
The 2-day summit in October 2016 provided a forum for participants to discuss leveraging e-Construction technology on construction projects and address challenges related to implementing paperless processes. It was organized by the Federal Highway Administration, U.S. Department of Transportation, Virginia Department of Transportation (VDOT), and University of Virginia Transportation Training Academy.
An Every Day Counts round four (EDC-4) innovation carried over from EDC-3, e-Construction involves creating, distributing, reviewing, and storing highway construction documents in a paperless environment.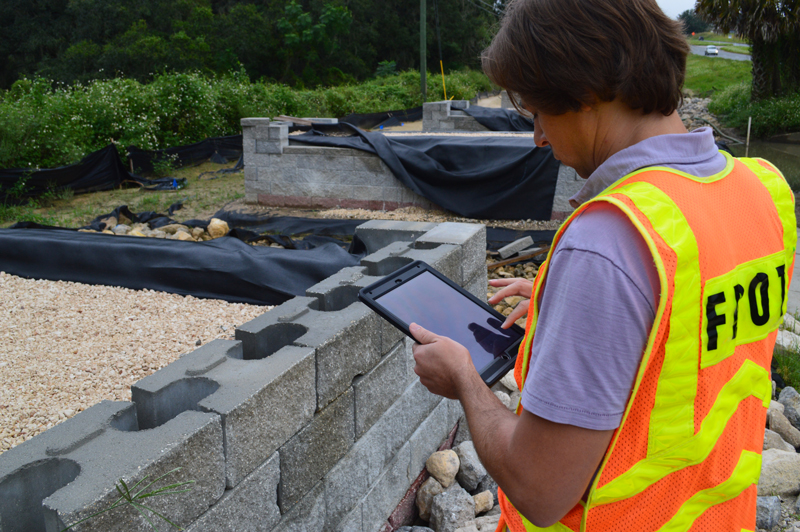 A summary of the workshop captured the impact of e-Construction: "The future of transportation design and construction is not only in innovative technologies, materials, and approaches, but also in the widespread adoption of e-Construction processes. The e-Construction process allows faster approvals, increased accuracy, and enhanced document tracking, all while increasing transparency."
Deployment Strategies
At the summit, transportation department staff from Delaware, Florida, Iowa, Pennsylvania, Utah, and Virginia as well as industry representatives made presentations on case studies and implementation strategies. Among the topics covered were deploying electronic document management systems, using mobile devices to make work environments more organized and accessible, creating 3D and 4D design documents to improve constructability and save costs, and implementing e-ticketing to document construction site deliveries.
Representatives for VDOT discussed the use of 3D modeling on the Gilmerton Bridge replacement project in Chesapeake. The design team added a layer, or dimension, in the model to include scheduling data. The team said the 3D tool was helpful, given the proximity of the project to a railroad and the old bridge. With this tool they could model the construction sequence and factor in use of heavy construction equipment in the tight spaces.
The Florida Department of Transportation (FDOT) presentation described the agency's use of a program to organize electronic data. This tool allows users to upload and review project documents, logs, punch lists, and plans. It contains a library of forms that guide the construction manager or inspector through FDOT's construction process. After these documents have been finalized and approved, they are uploaded to a long-term storage system.
Presenters from the Pennsylvania Department of Transportation discussed the agency's development and implementation of a storage system solution called CDSv3 (Construction Documentations System Version 3). CDSv3 identifies the source of different supplies needed for a project, keeps track of project site activities, and reports facility and project punch lists. Using CDSv3, which cost $3.1 million to develop, generated savings of $13.5 million in 3 years.
Participants also heard the industry's perspective on the use of unmanned aerial systems. About 1,500 drones are in use for construction purposes in scenarios such as analyzing project progress, measuring quantities, doing inspections, and checking environmental compliance.
For information and technical assistance on e-Construction, contact Kathryn Weisner of the FHWA Resource Center.
---