The prospect of improving the strength, simplicity, and durability of prefabricated bridge component connections is driving interest in ultra-high performance concrete (UHPC), a steel fiber-reinforced material that delivers performance that far exceeds conventional concrete.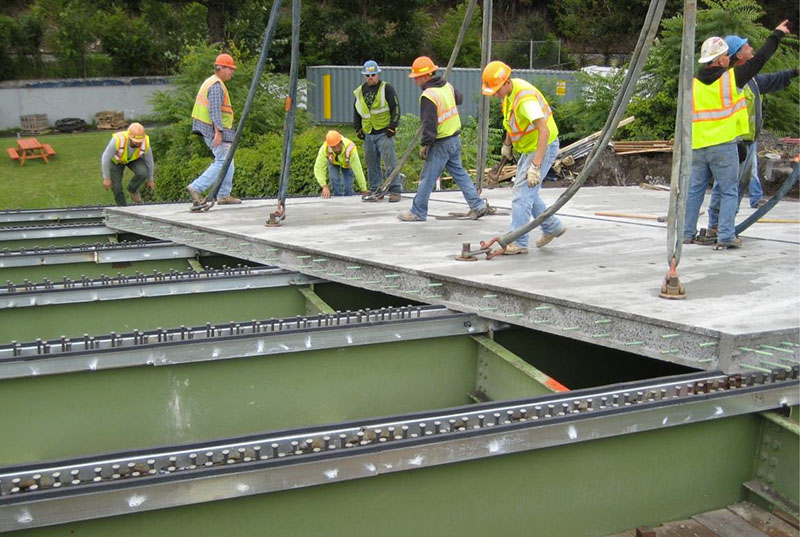 An Every Day Counts round four (EDC-4) innovation carried over from EDC-3, UHPC has been used in the construction of more than 150 bridges in North America, in most cases to make strong field-cast connections between prefabricated bridge elements (PBEs).
UHPC allows for small, simple-to-construct connections that require less concrete. The material's mechanical properties enable the design of connection details in ways that promote ease and speed of construction with PBEs.
"UHPC is the next generation of concrete. It's a new tool in the toolbox that lets us build bridges differently so they'll give us the performance we demand," said Ben Graybeal, FHWA Bridge Engineering Research Team leader.
In EDC-4, transportation departments in 22 States and the U.S. Virgin Islands as well as Federal Lands Highway plan to demonstrate and assess the use of UHPC connections in bridge-building processes. In another 10 States and Washington, DC, using UHPC connections on bridge projects that use PBEs is expected to be a standard practice by the time EDC-4 ends in December 2018.
Accelerating Construction
So far, New York has completed 45 UHPC projects, the most in the country. On a project to replace the I-87 bridges over Albany-Shaker Road in Colonie, the New York State Department of Transportation kept construction time to one season by using precast deck panels with UHPC joints.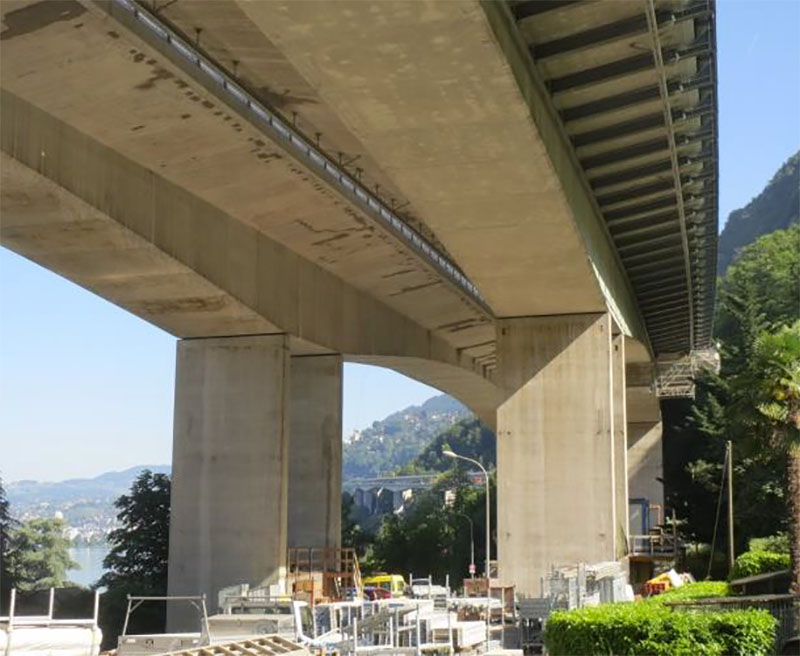 The New Jersey Department of Transportation (NJDOT) used UHPC to connect precast deck panels on the Pulaski Skyway, the Nation's largest accelerated bridge construction project. "With the implementation of UHPC, we were able to keep construction joints to a minimum in width and length, saving time and money and speeding up the project," said David Hawes, NJDOT resident engineer for the northeastern New Jersey project.
In Iowa, UHPC was used on four projects to connect PBEs and on another four to prefabricate the components and then connect them. A project in Buchanan County was the first in the country to apply a UHPC overlay on a deteriorated bridge deck.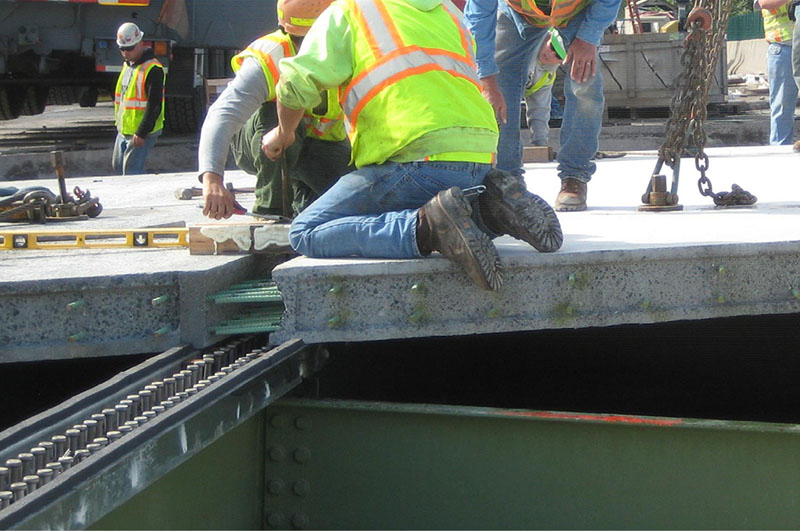 In Pennsylvania, an early UHPC adopter, the technology has been used on 10 bridge projects and incorporated into Pennsylvania Department of Transportation (PennDOT) publications and standards. "We use UHPC in areas with high volumes of traffic where we need to close a bridge, make an improvement to it, and then get it open to traffic quickly," said Kristin Lager, PennDOT assistant chief bridge engineer.
Upcoming Projects
Several transportation departments have UHPC projects in the works or at the planning stage.
In South Carolina, work is underway on a four-span bridge in Kershaw County. One span uses precast modified North Extreme Tee Deck (NEXT-D) beams, developed by the South Carolina Department of Transportation (SCDOT) and Clemson University, with UHPC in the shear keyways between the sections. Two spans use hollow core precast slabs connected with UHPC. The fourth span uses precast, prestressed solid slab sections joined with UHPC. SCDOT is monitoring the durability of the different types of construction to glean information to apply on future projects.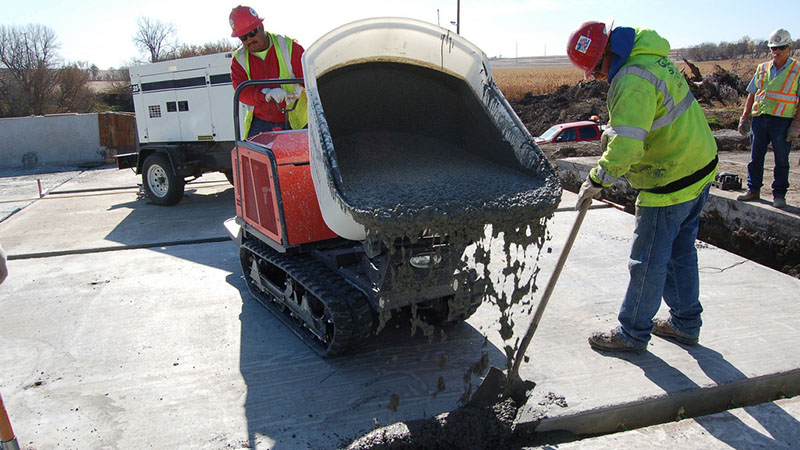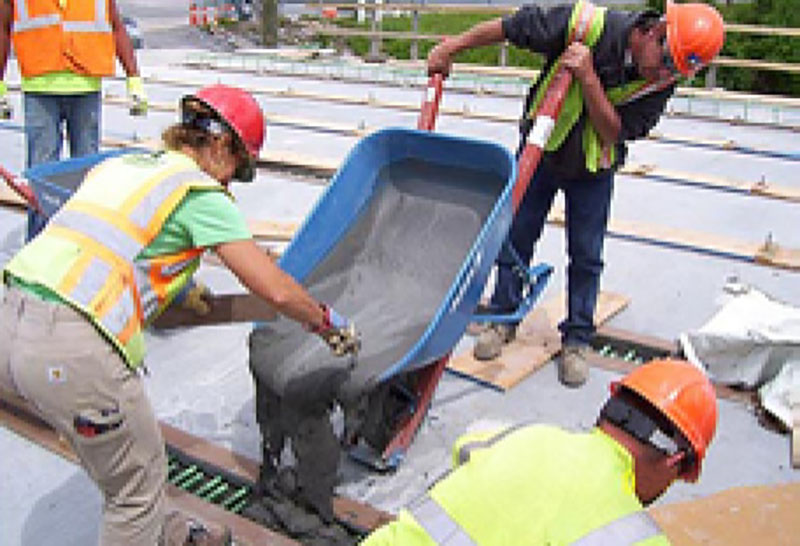 The Idaho Transportation Department plans three bridge replacement projects in 2017 that incorporate UHPC. On two projects, UHPC will be used to make connections between deck bulb-tee girders, which will facilitate the construction of PBEs. The third project will use UHPC to connect precast elements.
The California Department of Transportation identified two multispan structures for pilot projects using UHPC to connect precast columns to precast bent caps. Scheduled for 2017 construction, the projects will help the agency develop design details and guidance to quickly and uniformly implement accelerated bridge construction while mitigating project risk.
More Information
Watch a video on UHPC and its use on bridge projects in Minnesota and New York.
Register for upcoming webinars and watch recordings of past sessions in FHWA's series on UHPC connections for PBEs.
See FHWA's UHPC Web page for information on projects and research.
View an interactive map of transportation projects built in the United States and Canada using UHPC technology.
Contact Ben Graybeal of the FHWA Turner-Fairbank Highway Research Center or Mark Leonard of the FHWA Resource Center for information and technical assistance.
---