Last week, we introduced you to the Safe Transportation for Every Pedestrian (STEP) program. STEP is designed to reduce pedestrian fatalities, which account for over 16 percent of all motor vehicle crash fatalities.
Looking at your jurisdiction's pedestrian crossings and roads as a whole—system-wide—is an important first step to understanding your agency needs and potential solutions. Several State Departments of Transportation are already working on or have completed State-level inventory projects or systemic analyses to help make informed decisions with pedestrian safety countermeasures.
The Connecticut Department of Transportation (CTDOT) recently completed its statewide Pedestrian Signing and Pavement Marking Project to improve crosswalk visibility on state maintained roads.
CTDOT is expanding the project to provide funding to upgrade over 1,500 pedestrian crossing locations on locally maintained streets. CTDOT will incorporate data from these sites into a statewide asset inventory of all uncontrolled pedestrian crossing locations, allowing CTDOT to conduct advanced safety analysis and plan for future improvements across the network.
Last year, the Virginia Department of Transportation (VDOT) released its first statewide Pedestrian Safety Action Plan (PSAP), which focuses on sites where STEP countermeasures would improve pedestrian safety. VDOT evaluated corridors according to pedestrian crash history and future crash potential. FHWA supported this effort with training and technical assistance, and after the PSAP's release, VDOT quickly began implementing projects recommended in the plan after identifying funding.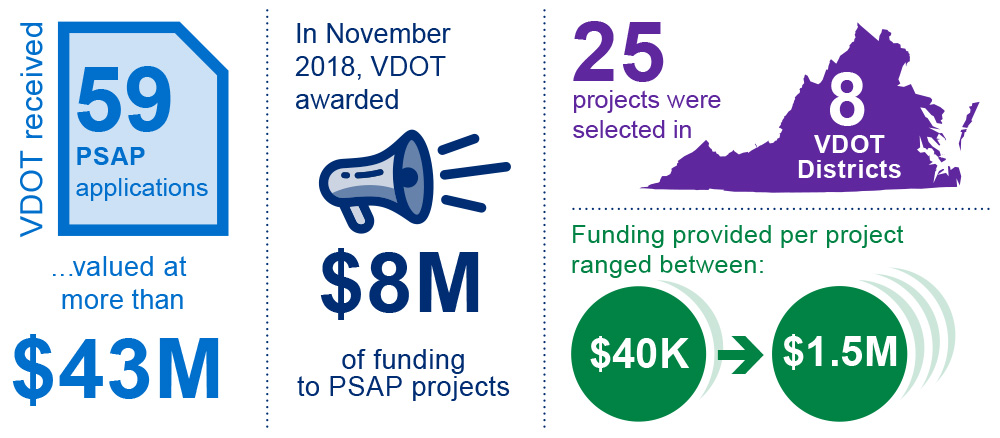 ---