Accelerated bridge construction
 (ABC) is now a widespread concept in the United States, where a majority of State transportation departments use ABC on projects and about a third have made it a standard practice.
Incorporating innovative technology in planning, design, materials, and construction methods, ABC minimizes traffic disruption, enhances motorist and worker safety, and reduces onsite construction time when building new and rehabilitating existing bridges. "We have come a long way since ABC's inception," said Jamal Elkaissi, structural engineer at the Federal Highway Administration Resource Center. "ABC is here to stay because it makes sense to build bridges faster, better, and safer."
Increasing Mobility, Safety, and Quality
Reducing the impact of construction projects on the traveling public is a key reason for the growing use of ABC, which in many cases enables agencies to limit traffic disruption to days rather than weeks or months. "ABC translates into mobility," said Elkaissi. "Agencies learned that there's an alternative method of building bridges than closing lanes or detouring traffic for a long period of time. Now the public expects it."
Agencies also choose ABC because reduced onsite construction time improves safety for travelers and workers in work zones, where 799 people died in 2017. "Less time spent in work zones means fewer fatalities will occur during construction," said Elkaissi.
Another driver is enhanced quality. Today's most widely used ABC technology is prefabricated bridge elements (PBEs), fabricated offsite in a controlled environment and moved to the project location for rapid installation. PBEs not only shorten onsite construction time, they also offer superior durability and a longer service life. "Many State DOTs are attracted to ABC technologies such as PBEs that increase quality because of the potential to stretch taxpayer dollars," said Elkaissi.
A pioneer in embracing ABC, the Utah Department of Transportation (UDOT) institutionalized construction strategies to minimize traffic disruption, improve public and worker safety by getting construction done faster and away from travelers, and enhance quality.
"For us, ABC is just part of doing business," said Carmen Swanwick, Region Two deputy director for UDOT, which incorporated ABC design documents and drawings into its Structures Design and Detailing Manual and stopped counting how many agency bridge projects use ABC when the number topped 200 a few years ago. "We don't evaluate a project for ABC when it gets to design. We're already thinking about it in concept."
Today's Top Technologies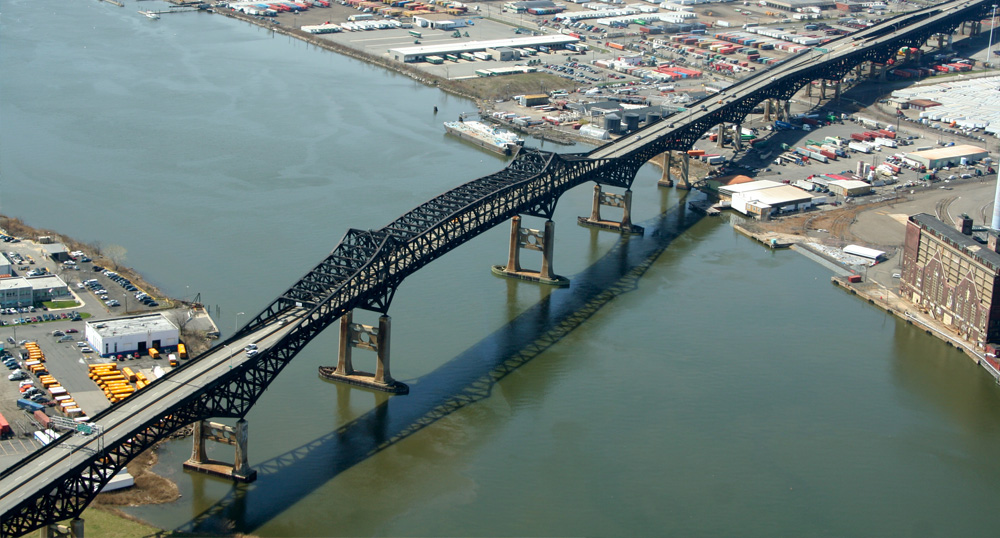 New Jersey's Pulaski Skyway deck replacement featured precast deck panels connected with UHPC, stainless steel rebar, and a polyester concrete overlay to maximize durability.
A new generation of cementitious composite materials, ultra-high performance concrete (UHPC) gets credit for expanding use of PBEs to accelerate bridge projects. Field-cast UHPC creates connections between PBEs that use less concrete and provide better long-term performance than typical connections. Promotion through FHWA's Every Day Counts program helped quadruple UHPC use to more than 200 bridge projects nationwide, in most cases to provide strong, long-lasting connections for PBEs.
"Using UHPC to cast simpler, more durable connections between prefabricated bridge elements is the 'killer app' that has emerged as the entry point for owners, consultants, and contractors to begin using this new class of concrete," said Benjamin Graybeal, bridge engineering research team leader in FHWA's Office of Infrastructure Research and Development.
New Jersey's Pulaski Skyway deck replacement is the largest application of UHPC to date. The project featured precast deck panels connected with UHPC, stainless steel rebar, and a polyester concrete overlay to maximize durability. The New Jersey Department of Transportation chose this system to minimize future repairs and traffic disruption on the heavily traveled bridge.
Another ABC technique many agencies use successfully is slide-in bridge construction, in which crews construct a bridge on temporary supports next to the existing structure and move the new bridge into position during a road closure. Glenwood Springs, CO, used the technique on its 27th Street Bridge project to reduce traffic and economic impacts while replacing this vital downtown link over the Roaring Fork River.
Crews built the replacement bridge near the existing bridge while it remained open to traffic, then demolished the old bridge and slid the new one into place during a week-long road closure in September. "The Glenwood Springs project is an exciting example of ABC moving from implementation at the State level to local and county agencies," said Elkaissi.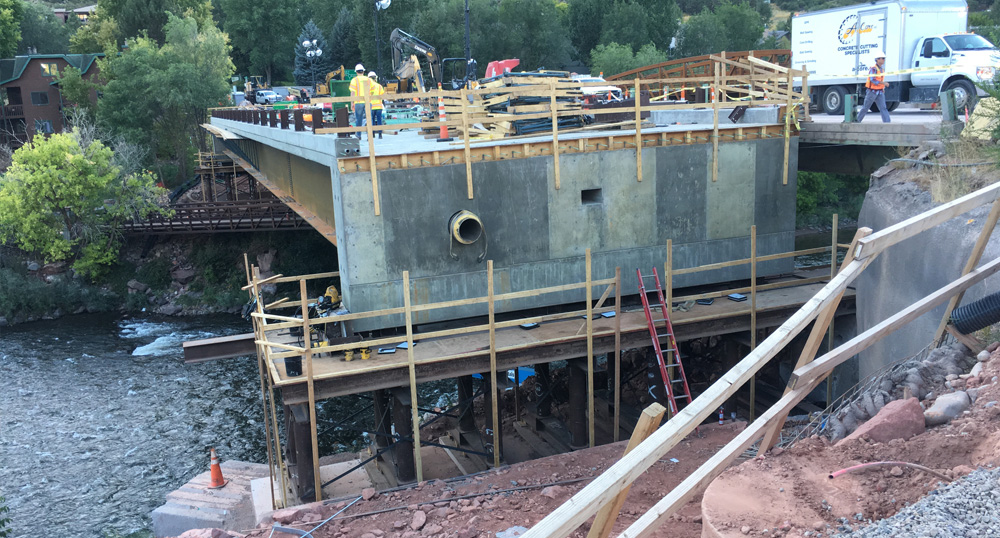 To reduce traffic disruption, crews in Glenwood Springs, CO, built a bridge on temporary supports before sliding it into place.
Also growing in popularity is geosynthetic reinforced soil-integrated bridge system (GRS-IBS) technology, a cost-effective, rapid-construction, high-quality method of bridge support that blends the roadway into the superstructure. GRS-IBS can be built with simple and readily available materials, equipment, and labor. "Time and cost savings result from the simplicity of the design and construction procedures as well as the materials selected for construction," said Daniel Alzamora, senior technical engineer at the FHWA Resource Center.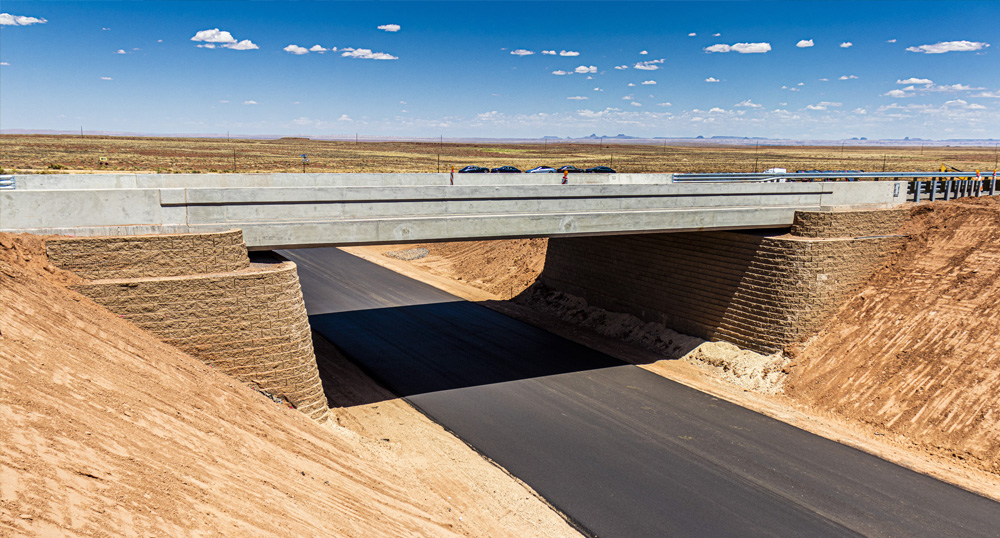 The Arizona Department of Transportation chose GRS-IBS to minimize motorist impact and expedite the replacement of an Interstate 40 bridge.
An Arizona Department of Transportation (ADOT) project to replace the Interstate 40 bridge at Meteor City Road used GRS-IBS to get the work done faster, limit inconvenience for motorists, and reduce long-term maintenance costs. The 2019 project, ADOT's first use of this technique, made it possible for a bridge replacement that ordinarily would take about 6 months to wrap up in a third of the time. State Transportation Innovation Council Incentive funds enabled ADOT to develop GRS-IBS specifications for use on this and future projects.
Incorporating ABC Into Bridge Programs
Many transportation departments now use a programmatic approach to ABC, developing standard practices and evaluating potential ABC use early in project processes. UDOT created an ABC Decision-Making Process template to evaluate every bridge project at the concept stage. "Our matrix is very simple," said Swanwick. "Other States have adapted it to the way they do business and added different criteria, which is great."
Using the UDOT matrix as a starting point, the Connecticut Department of Transportation (CTDOT) developed its own ABC Decision Matrix and adopted it as a bridge design standard practice. The matrix helps CTDOT assess the viability of ABC during the preliminary design phase of projects to replace bridge decks, superstructure spans, or entire bridges.
CTDOT's methodology determines the effect of ABC on the overall cost of the bridge, including bid price, project management costs, and road user impacts. Preliminary road user impacts are assessed by estimating and comparing road user delay time for conventional construction to a proposed ABC construction method.
"What drove the decision methodology was the need for more uniformity in how we analyzed the ABC potential for a bridge project," said Timothy Fields, CTDOT transportation principal engineer. "It was to create a more objective way of assessing ABC."
---
Advancing ABC Across the Transportation Community
The Federal Highway Administration promoted various aspects of accelerated bridge construction (ABC) in the first four rounds of Every Day Counts (EDC), including prefabricated bridge elements and systems, ultra-high performance concrete connections, slide-in bridge construction, and geosynthetic reinforced soil-integrated bridge system technology. Outreach and technical assistance from EDC deployment teams, peer exchanges with States experienced in ABC use, and demonstration projects encouraged many transportation agencies to adopt ABC.
In 2018, the American Association of State Highway and Transportation Officials (AASHTO) published the LRFD Guide Specifications for Accelerated Bridge Construction, which compiles recommended design and construction specifications for ABC technologies. "The fact that AASHTO published guidance forward gives ABC a lot of credibility and could make States more willing to use it," said Carmen Swanwick, Utah Department of Transportation Region Two deputy director.
The second Strategic Highway Research Program (SHRP2)—a collaborative effort of FHWA, AASHTO, and the Transportation Research Board—yielded several ABC resources. They include a widely distributed ABC toolkit that features a guidebook, standard design details, and specifications and a SHRP2 training class that reached more than 850 people in the past year.
As a result of these efforts, ongoing research, and agencies' sharing of best practices and lessons learned, ABC implementation continues to accelerate. "Today, ABC technologies are widely used across the country," said Romeo Garcia, bridge construction engineer in the FHWA Office of Infrastructure. Agencies are changing the way they do business, moving from project to programmatic deployment of ABC and using game-changing technologies to produce safer, more durable bridges than those built conventionally.
---