Last week, we discussed how crowdsourcing for operations helped the Missouri Department of Transportation (MDOT) with traffic incident management and prioritizing maintenance needs. Providing real-time traveler information is another important application crowdsourcing can help agencies improve upon. This is especially true in rural areas where traffic detectors are more sparsely located.
The Arizona Department of Transportation's (ADOT) "travel times program" is a good example of how crowdsourced data can improve real-time traveler information. ADOT has displayed travel times on a limited number of dynamic message signs (DMS), primarily in the Phoenix area, for over a decade. The availability of crowdsourced data, however, has allowed ADOT to expand this practice to routes and signs on rural freeways statewide.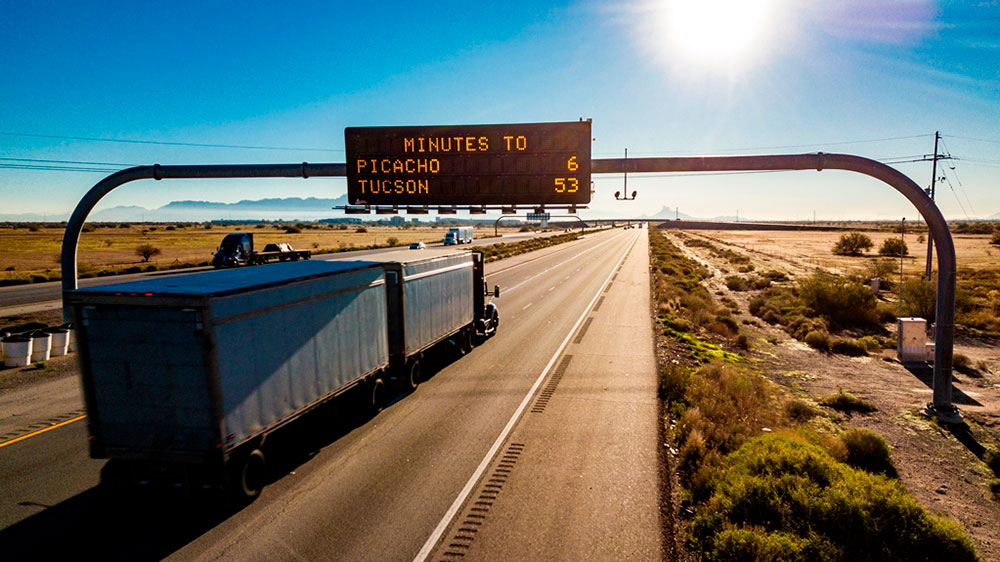 Traditionally, travel times are determined from infrastructure-based traffic detectors embedded in the pavement or along the side of the roadway. Data quality and accuracy from the detectors is a persistent issue and requires the department to monitor and maintain the detectors frequently.
To provide more accurate travel times, ADOT developed a system to automatically collect real-time vehicle speed data from a third-party provider who collects anonymized "probe" data from mobile phones, connected cars, trucks, delivery vans, and other fleet vehicles equipped with GPS devices. Once collected and stored in a database, the data is processed, and the travel times are formatted and sent to the DMS using a third-party application.
This system allows ADOT to post travel times to 94 rural DMS across the state without the expense and time needed to install and maintain additional traffic detectors and associated communications systems. ADOT also created a user interface with various views, including a travel times home page showing all DMS and their current messages, and a map view of the DMS and associated messages.
To learn more about how your agency can use crowdsourced data to improve traveler information, please contact James Colyar or Paul Jodoin of the Federal Highway Administration Office of Operations.
---