Federal Highway Administrator Nicole R. Nason will launch the next round of Every Day Counts innovations at a webinar on September 23, 2020. Seven innovations will be promoted in the sixth round of Every Day Counts (EDC-6), the State-based program to rapidly deploy processes and technologies to boost the safety and efficiency of the transportation system and keep America moving.
The EDC-6 innovations feature strategies to increase engagement with the people who build and use the transportation infrastructure, products to save money on preserving and repairing bridges and roads, and processes to save time on project delivery and incident management.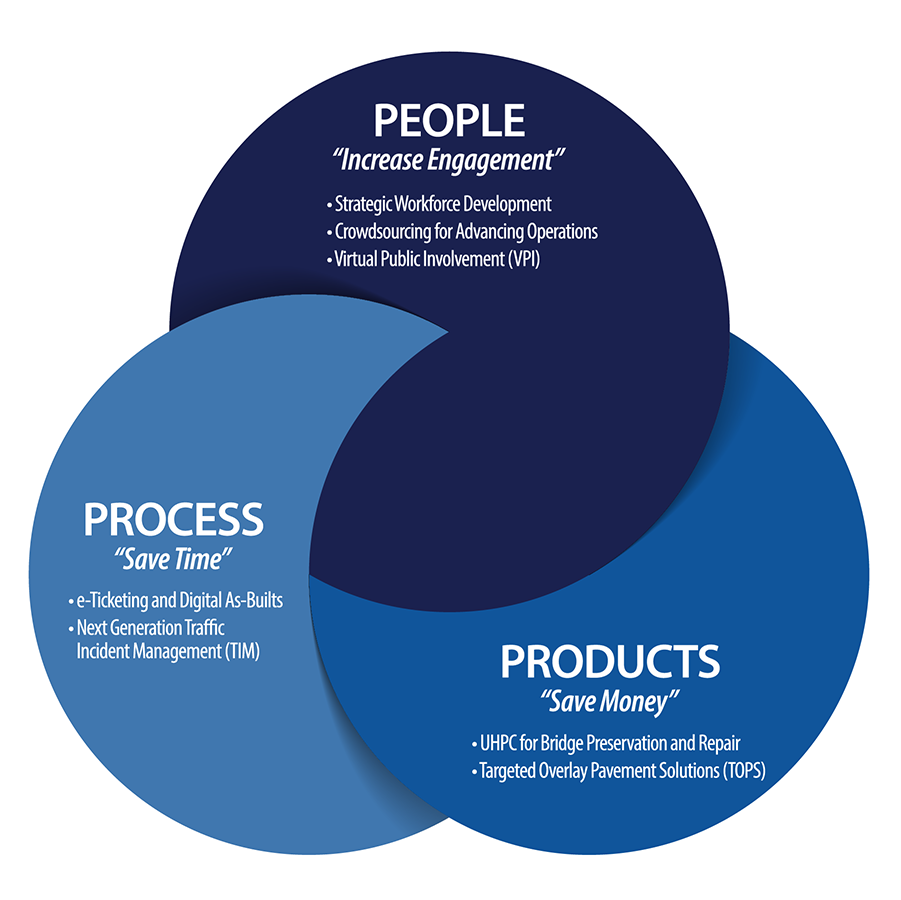 FHWA's call for ideas for EDC-6 yielded more than 100 suggestions from local, State, and Federal agencies; academia; and industry. After consulting with the American Association of State Highway and Transportation Officials and other stakeholders, FHWA selected seven proven, market-ready innovations to promote in 2021 and 2022.
This fall, FHWA's Center for Accelerating Innovation (CAI) will hold a virtual summit on the EDC-6 innovations for all transportation stakeholders. Starting in January, EDC-6 deployment teams will provide technical assistance and training to help transportation agencies implement the innovations State Transportation Innovation Councils choose to adopt in their States.
Crowdsourcing for Advancing Operations

State and local transportation agencies need real-time, high-quality, and wide-ranging information to optimize roadway operations for reduced congestion and increased safety. Agencies are increasing the quality and quantity of operations data with crowdsourcing, which enables staff to make better decisions that lead to safer and more reliable travel and apply proactive strategies cost effectively. With crowdsourced data from multiple streams, agencies can capture in real time what happens between sensors, in rural areas, along arterials, and beyond jurisdictional boundaries. Learn More >
e-Ticketing and Digital As-Builts

Highway construction projects generate massive amounts of valuable data that historically were communicated via paper, but agencies are improving on paper process by integrating them into electronic and digital workflows. Electronic ticketing improves the tracking, exchange, and archiving of materials tickets. Digital information, such as three-dimensional design models and other metadata, enhances the future usability of as-built plans for operations, maintenance, and asset management. Both can increase project safety, quality, and cost savings through efficient data gathering and sharing. Learn More >
Next-Generation Traffic Incident Management: Integrating Technology, Data and Training

More than 6 million traffic crashes are reported each year, creating congestion and putting motorists and responders at risk of secondary crashes. Next-generation traffic incident management (NextGen TIM) builds on FHWA's national TIM responder training program to shorten the duration and impact of incidents and improve the safety of motorists, crash victims, and responders. NextGen TIM offers tools, data, and training mechanisms that can benefit both new and existing TIM programs, including local agency and off-interstate applications. Learn More >
Strategic Workforce Development

The demand for highway construction, maintenance, and operations workers is growing while the transportation industry is experiencing a revolution of emerging technologies that require new skills. The Highway Construction Workforce Partnership developed strategies and resources to demonstrate the value of a career in transportation and fill the jobs that support the Nation's highway system. Resources include the "Identify, Train, Place" workforce development playbook and Roads to Your Future outreach campaign to attract and retain workers in highway construction jobs. Learn More >
Targeted Overlay Pavement Solutions

Pavement overlays represent a significant portion of highway infrastructure dollars. Many pavements in the highway system have reached or are nearing the end of their design life while carrying traffic that exceeds their initial design criteria. Targeted overlay pavement solutions (TOPS) are now available for asphalt and concrete pavements that enable agencies to maximize their investment and help ensure safer, longer-lasting roadways. TOPS will improve performance, lessen traffic impacts, and reduce the cost of pavement ownership. Learn More >
Ultra-High Performance Concrete for Bridge Preservation and Repair

Ultra-high performance concrete (UHPC)—a fiber-reinforced, cementitious composite material with mechanical and durability properties that far exceed those of conventional concrete—has become popular for field-cast prefabricated bridge elements. Bridge preservation and repair is a new application of UHPC that offers superior strength, enhanced performance, and improved life-cycle cost over traditional methods. Learn More >
Virtual Public Involvement

Public engagement during transportation project planning and development helps agencies identify issues and concerns early in the process, which can ultimately accelerate project delivery. Virtual public involvement supports agency efforts to engage the public more effectively by supplementing face-to-face information sharing with technology. Techniques such as telephone town halls, online meetings, and social media increase the number and variety of ways to inform the public, receive feedback, and collect and consider stakeholder input
---