For more than a decade, FHWA's Every Day Counts (EDC) program has promoted proven but underused innovations that enhance roadway safety, improve project delivery, and reduce traffic congestion. Across the country, agencies attest to the value of adopting these new technologies and practices, along with a cultural change in how they deploy innovation. As the transportation community participates in EDC round six, Innovator is featuring articles that reflect on what the program has accomplished.
Highway project delivery and administration has historically been a manual and two-dimensional, mostly paper-based process for accomplishing final design and construction. This approach necessitates large quantities of paper for postal delivery, project journals, stamped plan sets, etc., along with multiple physical signatures and limits timely communication. Early EDC initiatives boosted a transition to digital practices and technologies—think computers/software, mobile devices, and the cloud—that streamline workflows and leverage the power of data for automation and enable real-time decision making.
Streamlining Workflows
In round three of EDC (EDC-3), e-Construction supported the move from carrying reams of paper and stacks of manuals into the construction process to carrying a laptop or a mobile device. e-Construction technologies (such as mobile devices, the cloud, applications for field inspection and data collection, data hosting services, and electronic routing, review, and approval processes) improve real-time collaboration and transparency and save money. Host States for EDC-sponsored peer exchanges reported saving millions of dollars and thousands of hours per year by adopting e-Construction.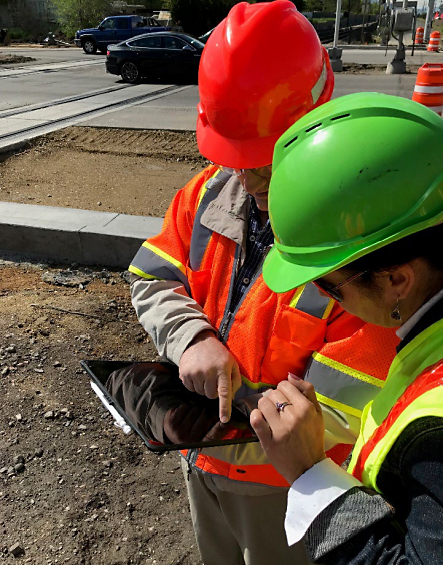 As more States adopted e-Construction, industry responded by offering additional software and hardware options and tools. "When we first started, there were two main software vendors," said Kathryn Weisner, FHWA Resource Center. "Now for e-Ticketing alone there are at least 18 different vendors, for digital signatures about a dozen, for document management solutions at least 8, and for construction management systems at least 5, because industry is seeing the opportunity."
"Different career fields inside State DOTs, for example IT and accounting, worked together to make e-Construction a reality and collaborate on systems that benefit everyone," said Weisner. "The EDC peer exchanges were invaluable not just for the technology promoted, but for our State DOTs as a whole because technical staff were at the table with executives and upper management discussing e-Construction and other innovations. These relationships continue beyond EDC."
Leveraging the Power of Data
Three-dimensional (3D) engineered models, promoted during EDC-2 and EDC-3, have become the standard for many State DOTs and their contractor partners. With 3D modeling software, design and construction teams can connect virtually to develop, test, and change project designs. Contractor partners can utilize the models to automate machine controls during construction, and agencies can also use the model data as part of a "digital twin" of their assets for maintenance and other post-construction applications. EDC supported States in pursuing this approach and encouraged industry to accelerate development of practices, standards, tools, and software integrations for 3D models and other Building Information Modeling technologies that improve accuracy and efficiency.
Several States have now moved toward using the 3D design model as a primary part of the legal construction contract document instead of conventional paper plans. This further integrates and streamlines the design to construction workflow and produces more opportunity for collaboration to resolve issues before they get to the field. Institutionalizing these digital practices is making what was innovative now common practice.
Older technologies have also adapted to keep up with these advancements. For example, total stations, optical surveying instruments that use electronics to calculate angles and distances, are becoming "robotic," which means they are safer, more cost-effective, and more versatile for surveying and with automated machine guidance. EDC-2's intelligent compaction initiative, an approach to compacting pavement materials that incorporates GPS mapping and on-board computers, raised awareness of this new technology and data. One result was the development of the International Society for Intelligent Construction.
"EDC presented a case for trying underutilized innovations that have shown success and provided momentum to move forward," said Antonio Nieves, FHWA Office of Infrastructure. "EDC's accomplishments are not measured just by the numbers of States implementing a single innovation, but also by the curiosity of our partners to explore other technologies."
Looking Ahead
Early EDC efforts supplied momentum for adoption of digital signatures, model as the legal document, and e-Bidding, among other digital practices, along with e-Ticketing and digital as-builts in EDC-6. The initiatives are now converging as agencies and industry mature in their ability to integrate and utilize digital information throughout an asset's lifecycle, even to the point of saving as-built data for future use with maintenance/operations, asset management, and next cycle design/construction.
"Agencies realize that data is becoming one of their greatest assets. This is driving the need for an enterprise, or agency-wide, approach to effectively managing and sharing data," said David Unkefer, FHWA Resource Center. "Having ready access to good data will ultimately produce many secondary benefits, including capability to leverage artificial intelligence, analytics, and automation from the digital information. EDC has increased awareness and understanding within the highway industry of these digital opportunities, as well as incubating ways they might be better utilized and implemented."
"EDC's focus on deploying proven and game-changing innovation serves to engage top-to-bottom relationships within DOTs, from the CEO to the technical worker, and helps to unite all levels of staff "champions" toward common goals," said Unkefer, "and the successes in using mobile devices in the field for e-Construction and e-Ticketing and advancing 3D model-based workflows will provide opportunities to incorporate new innovations, such as augmented reality, on the highway construction projects of the future."
—MORE INFORMATION
---