Across the nation, there is a shortage of highway construction workers. FHWA partnered with other key national highway organizations and the Federal Employment and Training Administration to establish the Highway Construction Workforce Partnership (HCWP). The partnership brings highway construction, education, and workforce interests together at state and local levels to identify, train, and place individuals into trade occupations to fill industry workforce gaps. The programs are managed by the partner working groups that identify workforce needs and resources. HCWPs in several locations—Alabama, Denver, Rhode Island, and Idaho—have launched successful working groups.
A critical first step in addressing the highway construction workforce shortage is bringing together various community leaders and stakeholders to form these working groups. From holding roundtable meetings to leveraging longtime professional relationships, forming a successful working group often means bringing industry, government, education, businesses, and non-profit stakeholders together to take action.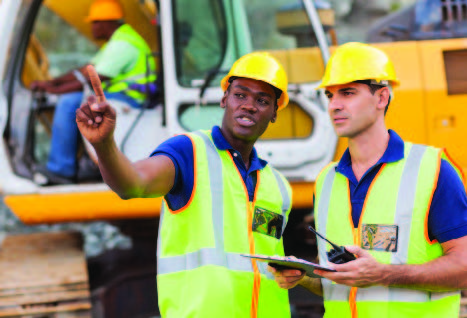 Working groups help ensure the success of a workforce development program. (Credit: USDOT/Getty)
In Idaho and Rhode Island, Department of Labor workforce councils with existing industry partnerships helped bring the HCWPs to life. In Alabama and Denver, Department of Transportation staff first connected business and highway construction industry leaders. From there, workforce councils and construction industry associations took the lead in expanding working groups as common hiring goals quickly united all partners into action working towards identifying, training, and placing individuals into highway construction jobs. Alabama also used longtime partnerships between business and industry representatives working with educational leaders to help form the HCWP. Engaging business and industry leaders in the community is very important to help tailor any workforce program to best meet local needs.
The Denver HCWP kicked off its successful working group by holding roundtable discussions on how to meet local hiring priorities. Initial conversations involved nearly 50 business and community representatives. In time, Denver found that smaller working groups focused on individual action items and meeting common goals worked well in moving the partnership forward.
Once a working group is established, keeping those common goals at the forefront through regular meetings and fluid communication is paramount. Like Denver, other program participants found that working together as a group proved to be effective, but in many cases, subcommittees organically formed to address a region's specific needs. Participants communicated frequently, meeting through in-person and virtual meetings, as well as more frequent email exchanges and teleconferences. In Denver, such communication led to a successful HCWP and ultimately 923 people were trained and 744 were placed in highway and vertical construction jobs.
Creating a shared resource pool can also serve as a great benefit to workforce partnerships. The Denver HCWP created a project management portal to serve as a hub for the partnership, giving access to information and materials to all its participating members.
To learn more about these and other successful workforce partnerships using working groups, please contact Karen Bobo or Joe Conway, EDC-6 Strategic Workforce Development co-leads.
---