Half the traffic fatalities in the United States are because a vehicle leaves its lane. Nearly 11,000 of those deaths happen on rural roads. That's losing 30 people today, and every day. The FHWA Every Day Counts (EDC) program has worked for years to help State and local agencies reduce these numbers. The Focus on Reducing Rural Roadway Departures (FoRRRwD) team was formed in 2018 for EDC round 5 (EDC-5). The goal was to provide 2 years of focused outreach, training, and technical assistance to help agencies tackle this problem.
"Lane departures are the most common severe crash type, and the majority of those are on rural roads. Forty percent are off the State roadway system," said Cate Satterfield, Safety Engineer for FHWA's Office of Safety and co-lead of the FoRRRwD implementation team. "If we as a country can reduce them on all public roads, we can really make a dent in our traffic fatalities nationwide."
Proven Strategies for a National Problem
A large part of the effort involves helping practitioners implement safety countermeasures that are proven to work. FHWA has compiled 28 proven safety countermeasures, many of which apply to rural roadway departures. Several are relatively low cost.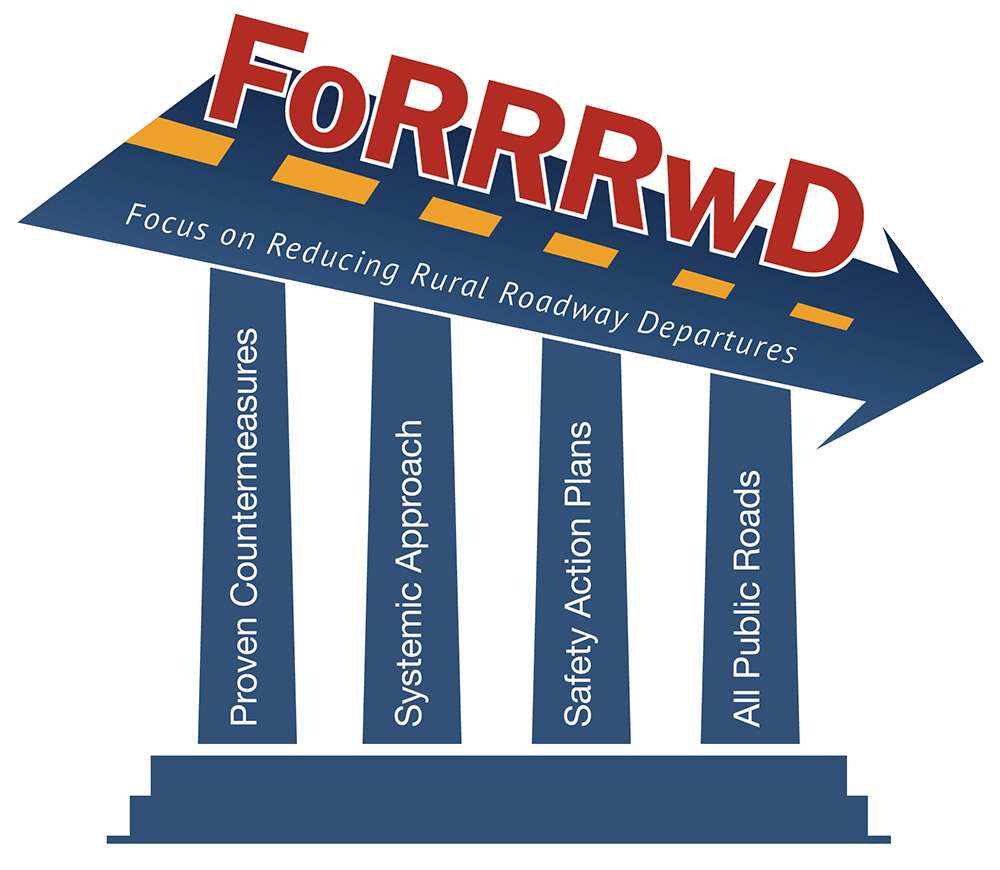 For instance, simply widening edge lines on rural roads can reduce fatal crashes by up to 37 percent, with a benefit-cost ratio of 25:1. Enhancing delineation on horizontal curves with countermeasures like chevron signs can reduce nighttime crashes by 25 percent. Center line rumble strips can drop head-on fatal and injury crashes by up to 64 percent on two-lane rural roads. In addition, Local Road Safety Plans provide a framework for prioritizing improvements on local roads.
Systemic Deployment: Making Money Go Further
"Agencies everywhere are dealing with limited budgets, especially those in rural areas," said Dick Albin, Senior Safety Engineer for FHWA's Resource Center and FoRRRwD co-lead. "That's why it's especially encouraging that these cost-effective countermeasures are proven and available. And they can be deployed systemically, at locations with the highest risk of severe crashes. This targeted installment can make dollars go even further." The systemic approach to safety investments has also been a pillar of the FoRRRwD team. This approach starts by analyzing lane departure crash data to identify roadway and traffic features that correlate with severe crash risk, like rural curves with a tight radius. After compiling a list of risk factors that are associated with higher-than-normal chances of a rural roadway departure, practitioners look for other locations across their roadway system with those same factors. They then implement low-cost countermeasures targeted at those locations. "The systemic approach is a win-win," said Jerry Roche, Safety Integration Team Leader for FHWA's Office of Safety. "It helps stretch investments while putting treatments at the locations with highest risk of a roadway departure."
Swiss Cheese and a Safe Roadway System
Proven countermeasures and the systemic approach are part of an overall strategy called the Safe System Approach. This holistic approach was first adopted in Sweden in 1997 as Vision Zero and has since spread around the world. Under the Safe System Approach, engineering efforts like those in FoRRRwD are partnered with behavioral methods like safe driving speeds and buckling up, as well as new technologies to make vehicles safer. This "Swiss Cheese" model of redundant protection for road users assumes that humans make mistakes and these frailties must be accounted for. "Road users bear responsibility to drive safely," said Mark Doctor, Team Leader for the FHWA Resource Center's Safety and Design Team. "But we know people are not perfect. We inevitably make mistakes. But it is unacceptable that those mistakes should be fatal."
How Does FoRRRwD Move Forward?
EDC-5 (2019–2020) was not the end of the FHWA focus on reducing rural roadway departures. The agency has a full roadway departure program that carries on the work of the FoRRRwD team. Experts from the FHWA Office of Safety and Resource Center offer peer exchanges, webinars, outreach materials, and technical assistance to State and local agencies. "We will never stop this work," said Satterfield. "Rural roadway departures are a persistent problem, so we will persist until and after they no longer happen. Our families, friends, and neighbors deserve nothing less. Thirty people will die today in a rural roadway departure. Let's save the people behind the numbers."
---