The United States has pledged to lower greenhouse gas (GHG) emissions from 2005 levels by 50 percent by 2030 and achieve net zero by 2050. In transportation, meeting GHG reduction goals often focuses on operational carbon emissions such as tailpipe emissions. Now the Federal Highway Administration (FHWA) is shining a spotlight on reducing embodied carbon associated with manufacturing, transporting, and producing construction materials such as aggregate, asphalt, cement, asphalt mixtures, concrete mixtures, and steel reinforcement.
"We're making design, construction, maintenance, and preservation decisions that impact embodied carbon emissions," said FHWA Pavement Design and Performance Team Leader LaToya Johnson. "We need to be able to make informed decisions early in the process. We can't go back once a project is complete and reduce the embodied carbon emissions."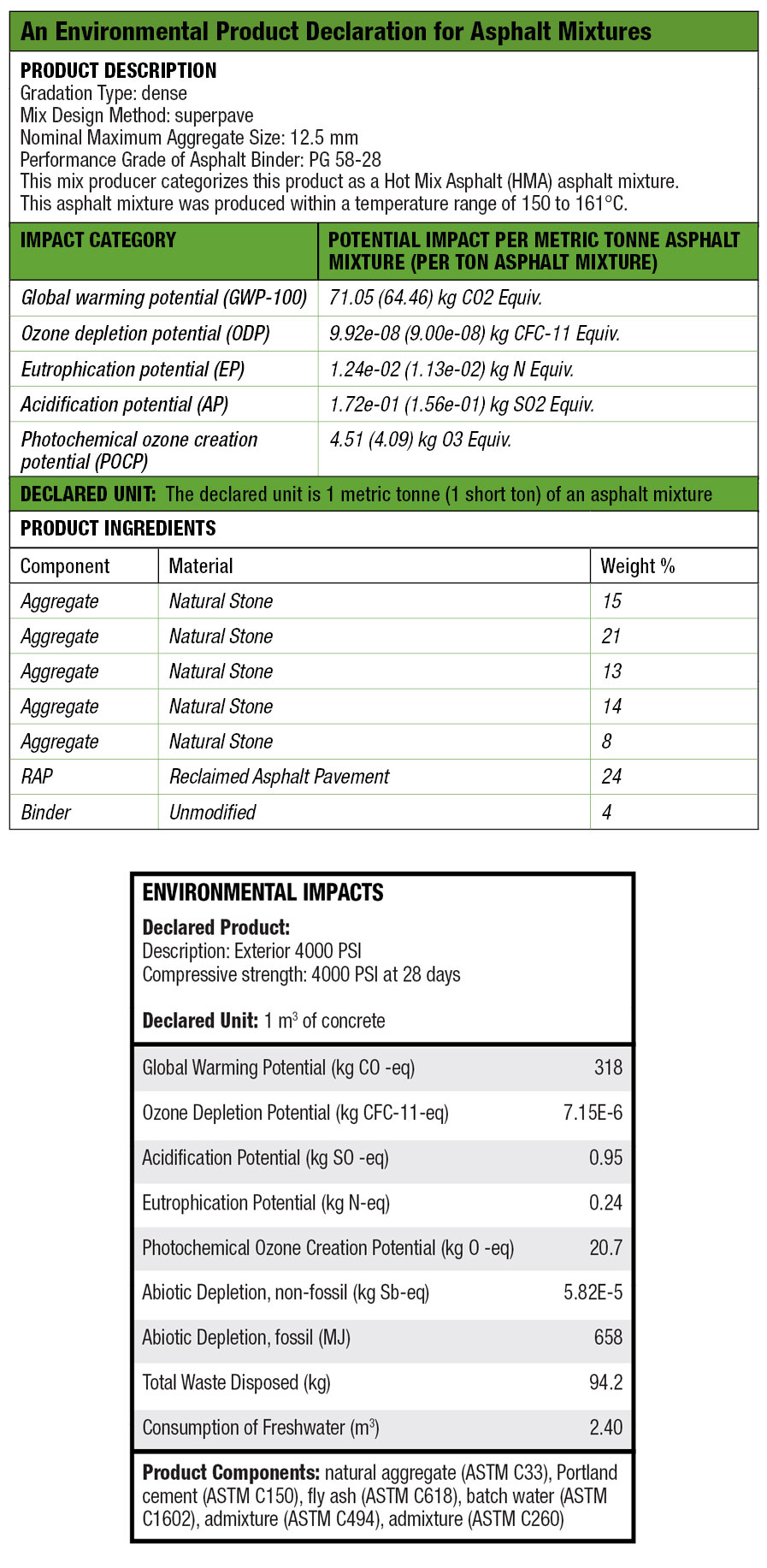 FHWA is encouraging transportation agencies to implement a new innovation as part of Every Day Counts (EDC) round 7 called EPDs for sustainable project delivery. An EPD, or environmental product declaration, is a third-party verified report used to document embodied carbon and communicate the GHG emissions of construction materials in a transparent and standardized manner. Industry creates EPDs to provide environmental impact information, help transportation agencies make informed decisions, encourage industry efficiency, and reduce environmental impacts.
State of Practice
The passage of new legislation in recent years has increased the popularity of EPDs. In December 2021, President Biden signed Executive Order 14057: Catalyzing Clean Energy Industries and Jobs Through Federal Sustainability, creating the first White House Buy Clean Task Force to provide recommendations for establishing a Buy Clean Policy for Federal agencies. After several meetings, the task force recommends that Federal agencies collect EPDs when purchasing concrete, asphalt, steel, and flat glass.
In August 2022, President Biden signed the Inflation Reduction Act (Pub. L. No. 117-169), authorizing $2 billion for a Low-Carbon Transportation Materials program. FHWA can reimburse or incentivize eligible recipients to use construction materials with substantially lower levels of embodied GHG emissions. EPDs will be used to identify low-carbon materials eligible for the program.
Increasingly, public agencies throughout the country are using EPDs to address GHG emissions. States such as California, Colorado, Minnesota, and Oregon are implementing Buy Clean policies that require EPDs to help procure construction materials with lower embodied GHG emissions.
Colorado
Colorado House Bill 21-1303, adopted in 2021, prompted the Colorado Department of Transportation (CDOT) to collect EPDs. "For States where Buy Clean legislation is being considered, DOTs should learn about the EPDs for sustainable project delivery initiative so they are better informed," said CDOT Pavement Engineer Hailey Goodale.
Colorado's new Buy Clean legislation created a requirements timeline. In 2022, CDOT began collecting EPDs for eligible materials defined as cement and concrete, asphalt, and steel. CDOT will use information from the EPDs to benchmark and create a policy to set maximum allowable global warming potential limits for these materials by January 2025. In July 2025, all winning bidders of CDOT construction contracts must submit EPDs for eligible materials in accordance with the CDOT policy. CDOT will begin reporting GHG reduction progress to the State legislature in 2026 and will have the opportunity to review and adjust the CDOT policy every 4 years.
Oregon
The Oregon Department of Transportation's (ODOT's) experience with EPDs started in 2021 with the release of its Strategic Action Plan. The plan directed ODOT staff to set an emissions baseline through a GHG inventory and begin phasing in low-carbon materials, fuels, and best practices. ODOT's GHG inventory found that 70 percent of ODOT operations emissions come from concrete, asphalt, and steel the agency uses to build and maintain the State's transportation system.
"It is typical for any business, including a DOT, to have a majority of emissions associated with the upstream supply chain," said ODOT Sustainability Program Manager Zechariah Heck. "The production of conventional cement and steel, two of the most frequently used building materials, accounts for approximately 15 percent of global GHG emissions."
The ODOT GHG inventory project resulted in over 40 recommendations, including maximizing the use of supplementary cementitious materials to reduce GHG emissions and developing an EPD program to identify ways to reduce pavement embodied carbon.
The recommendation to develop an EPD program became law in June 2022 when the Oregon House passed Bill 4139. The legislation requires ODOT to collect EPDs on asphalt, concrete, and steel by the end of 2025 and to devise two strategies to reduce GHG emissions from the materials used to construct and maintain the State transportation system.
"Sustainability is just good engineering; it's just doing the best business we can for everyone on this planet," said FHWA Sustainability Program Manager Migdalia Carrion. "I want to encourage State transportation departments and local public agencies to start collecting EPDs and understanding them so we can improve how we do business."
---
---