For more than a decade, FHWA's Every Day Counts (EDC) program has promoted proven but underused innovations that enhance roadway safety, improve project delivery, and reduce traffic congestion. Across the country, agencies attest to the value of adopting these new technologies and processes, along with creative strategies for innovation deployment. As the transportation community participates in EDC round seven, Innovator is featuring articles that reflect on the program's accomplishments.
Since roughly half the Nation's most severe crashes occur at intersections, efforts to reduce conflicts and improve safety performance at these locations can save lives. From 2013 to 2014, Every Day Counts round two (EDC-2) promoted innovative intersection and interchange geometrics that can accommodate traffic volumes efficiently while focusing on conflict points to allow for safer travel. The EDC-2 effort focused on five design types—diverging diamond interchanges, displaced left-turn intersections, median u-turn intersections, restricted crossing u-turn intersections (RCUTs), and roundabouts—that share the common attribute of reducing or eliminating left-turn conflicts.
Facing the Headwinds of Change
When EDC-2 began more than 10 years ago, intersection projects were likely to involve traditional designs—those controlled by a stop sign or traffic signal with all direct movements occurring at the main intersection. Many agencies were uncomfortable using roundabouts or other alternative intersection designs. Today the landscape is much different, with alternative designs appearing more commonly and encountering fewer barriers in planning from engineers and the public.
"Changing the way we evaluate and improve intersections, especially alternative intersections, was a tough sell," said George Merritt, FHWA senior safety and geometric design engineer. "The intersection and interchange geometrics team helped propel the state of practice forward through education and technical support. The data on these designs were too compelling to ignore, and the performance of alternative intersections objectively gave transportation officials a reasonable chance to overcome objections."
The FHWA team focused on giving practitioners tools to show the value, use cases, and benefits for each, as well as training and technical support to answer questions, review preliminary designs, assist agencies in making the pitch to introduce new intersection types, and help get projects off the ground. Informational guides gave practitioners key information that helped take new intersection designs from concept to plan sheet. This information, backed by FHWA subject matter experts, helped speed adoption of new intersection designs and begin the conversation around which new designs an agency should choose.
"Any time there's a new intersection type, there tends to be pushback until they're built and opened," said Jeff Shaw, Intersection Safety Program Manager, FHWA Office of Safety. "After they're built and opened, there's acceptance and conversion. Each community goes through this process but getting that first one is where the level of effort is most intense."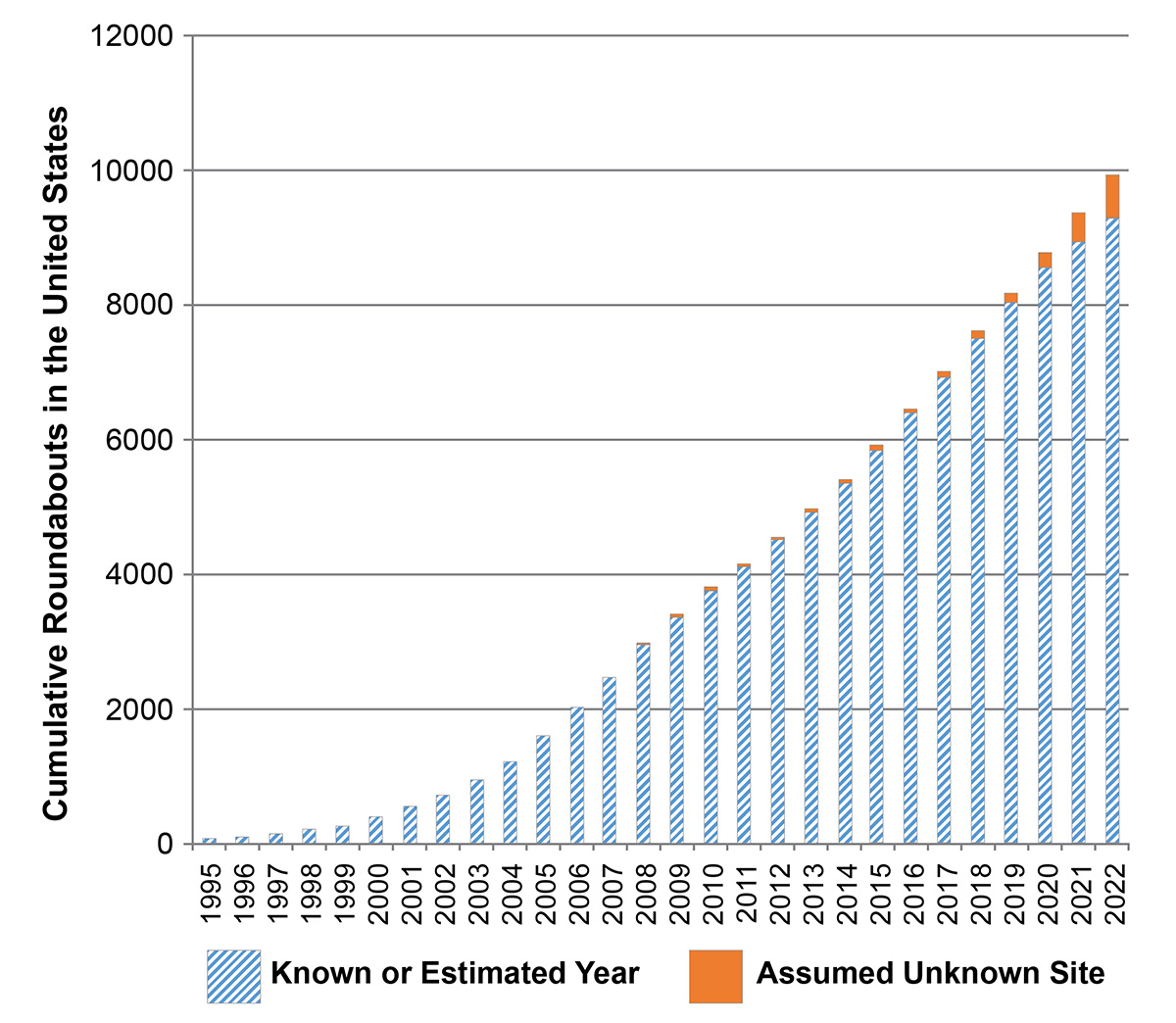 During EDC-2, the number of States implementing two or more of these designs increased from 16 to 38 plus Puerto Rico. Since EDC-2 ended in 2014, the number of roundabouts identified in the United States has nearly doubled, according to research presented at a Transportation Research Board conference in 2022. According to Shaw, RCUT intersections probably benefited the most from EDC, gaining significant momentum in agencies across the country. This is noteworthy because the niche for RCUTs is intersections along high-speed, divided four-lane highways, where the potential for severe crashes is high and safer designs are most needed.
"The background work and technical expertise of the team really helped to encourage change," added Merritt. "We provided support that helped agencies build confidence and ultimately move forward on new projects. EDC led to an institutional change in how agencies address intersections. We helped to strategically relocate the left turn movement, and there's no question that has reduced serious crashes."
A New Approach is Born
Out of the newfound choices came the need for a method to quantitatively evaluate possible intersection designs rather than relying on personal preferences or incomplete information. This need spurred the development of a new approach to intersection project development—intersection control evaluation (ICE). ICE is a performance-based approach used to screen possible intersection designs and identify the optimal solutions.
"ICE is the real legacy of EDC-2," said Shaw. "When you're growing the options to solve safety problems, you need a consistent, objective method to evaluate them. ICE provided a way to evaluate safety and operations as separate metrics. The ICE framework insists that safety performance and operations performance be parallel considerations in intersection design. The conversation has shifted from whether an agency should do it to which choice is best and how to do them right."
More recently, the ICE methodology is being dovetailed into the Safe System Approach (SSA), where eliminating conflicts and separating users in space and time are fundamentals, widening the perspective through which safety on a roadway system is evaluated and planned. Alternative intersections play an important role in the SSA and provide an opportunity for better pedestrian and bike safety.
Now, in grant programs like Safe Streets and Roads for All, more alternative intersection designs are appearing in applications. Overall, the number of alternative intersection designs being proposed and designed has greatly increased—the result of a seed planted by the work in EDC-2. Road safety is also being taught as part of intersection design in higher education—additional evidence that this new design paradigm is taking root.
"The state of practice is evolving on alternative and more complex intersections," added Dave Petrucci, Senior Safety Engineer with FHWA's Resource Center. "Engineers are moving away from rote use of level of service, asking for more nuanced evaluations, and using intersection conflicts in the decision process as compared with practices more than 10 years ago. The result, saved lives, is worth the effort."
---
---